Testimonials
ALBERTO ALVAREZ-CAMPOS, GENERAL MANAGER OPERATIONS, ASSISTANCE DOGS AUSTRALIA
As a national organisation, Assistance Dogs Australia strives to include what we see as the best breeding lines in our puppy education and training programs. We consistently look for physically healthy puppies that are of a great temperament and excellent quality to become outstanding assistance dogs. Whether for our own breeding program or from outside breeding, we rely on good genetics that can promote good health and temperamentally sound puppies and the expertise of the breeder behind their lines. This can only be achieved with great care given to the wellbeing of parents and puppies . The dogs we have purchased from Karen have these qualities, and the puppies from ALUBYC Golden Retrievers have been a wonderful addition to our Puppy Education program and our own breeding program.

Dealing with ALUBYC Golden Retrievers and Karen has been a positive experience for Assistance Dogs Australia. Karen has demonstrated integrity in our dealings with her and she has excellent knowledge of the Golden Retriever breed. Thank you Alubyc Golden Retrievers.
LINDA HINTZ, GOLD COAST
I began my love affair with Golden Retrievers 20 years ago with a gorgeous golden fluff ball named Morgan (Alubyc Captain Morgan) He was bred by Karen Vowell who undoubtedly must have a great love for the breed. I have found Karen to be a breeder of high integrity, who puts great thought into selecting her breeding lines as she strives to continually improve her lines. The result is that you are assured of well bred, healthy, friendly, intelligent, tolerant, patient, confident, gorgeous, lovely natured Golden Retrievers.
I have been blessed to have had Karen entrust me with 5 of her precious Golden's over that 20 year period. Morgan, Bronte, Tyler, Hayward and Astoria.
If you are one of the fortunate people who get to welcome an Alubyc Golden into your life, you will be rewarded with a lifelong companion who will simply love and adore you.
You will fall in love – this is the gift of an Alubyc Golden Retriever in your life.
JEANENE & SHANE MUNN
Goldens have been a big part of our family for nearly 17 years so when the time came to look for our next puppies it was a big decision. We of course wanted the most perfect baby Golden, but for us, we were also looking at great pedigrees in the hopes of breeding again. When we found the Alubyc website, it was a breath of fresh air. The professional approach to breeding and information was a relief after some we had seen. We now have 2 wonderful new members of our family from the Alubyc and Mesfleurs kennels and will never look back. We are confident in the breeding, but even more importantly, we are very pleased with Karen's obvious love of the dogs and the support to the new families. Our new pups are gorgeous and so willing to be part of our family, and learn. We would have no hesitation in recommending Alubyc Goldens to anyone who truly wants the best Golden Retriever to be part of their family, as Goldens are part of ours.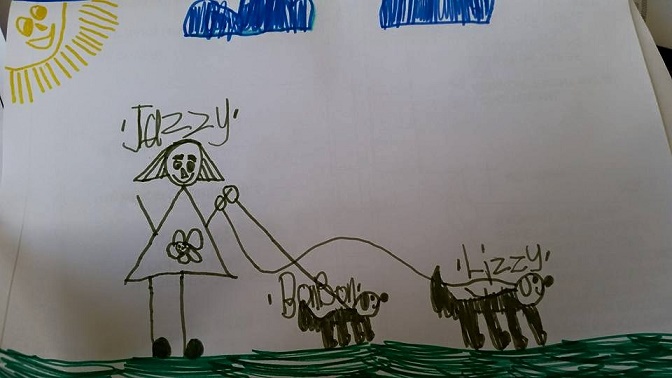 PRISCILLA SOH, SINGAPORE
My family of five are blessed to have found a breeder like Karen Vowell. We live in Singapore and wanted a Golden Retriever straight from an Australian breeder. Karen was one of the breeders I contacted via an Aussie friend who gave me some names.The thing that most impressed me about Karen – and what convinced us to go with her – was how she made it clear that she won't let her puppies go to a home if the prospective family does not agree to fill in her questionnaire. I felt absolutely certain that here was a breeder who held herself to high ethical and professional standards in her litters. Her questionnaire showed that she was not into breeding for the money but she was truly concerned for the welfare of her pups and wanted to be sure they would go to homes that would love them and take great care of them for life. Karen made the transition from Australia to Singapore so easy. She scouted for good animal transport handlers at good rates for us. I had many questions and she very patiently answered each one. Elsa, Alubyc Elderflower, formerly known as Silver Girl, arrived at her forever home in Singapore on 8 May 2015 with her own pink blanket and teddy bear! Even after Elsa arrived, Karen was always on hand to answer questions regarding housebreaking, instilling discipline, feeding and anything we were unsure of. She is calm, levelheaded and wise in her advice and encouragement. Elsa is an absolute sweetheart. She has a good temperament, is intelligent, strong and healthy – all hallmarks and testament of how carefully Karen has paid attention to the quality of her litters' genetics. We feel so blessed and happy to have Elsa as part of what is now our family of six! We continue to be connected to Karen and our extended fur family on her Facebook page for all Alubyc moms and pops!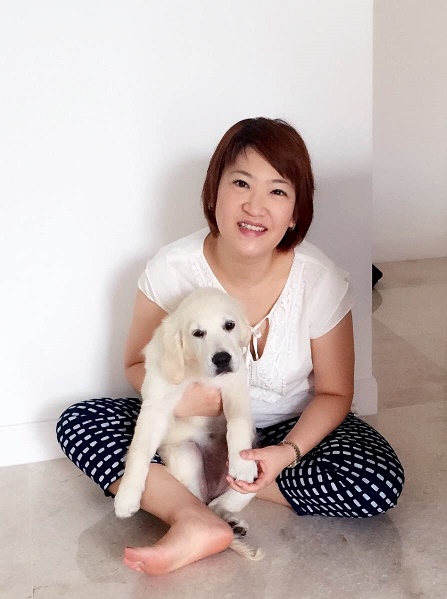 MARGARET WILSON & JOHN STEWART, BRISBANE QLD
In February 2015 we purchased a Fully Pedigreed male Golden Retriever from Karen Vowell of Alubyc Golden Retriever Kennels. From the first viewing of the litter to picking up our puppy we were kept informed of his development and growth in the litter. We finally brought Ochre home on 10th April. In order to have our pup we went through a rigorous questionnaire which identified our suitability to make a permanent home for him. This process impressed us as a unique, confident and caring concern for his welfare.We have found Karen is a breeder of total integrity and committed to truth, to breed in the superb temperament and physical excellence of her Golden Retrievers. Her continued professional care follows the development and progress of our pup, and others, and it is greatly appreciated by us both. When asked she has given helpful advice freely, succinctly and with encouraging humour. We are delighted to have this "Alubyc" pup in our family. He gives us much joy and love and we have met and seen his canine siblings and cousins displaying the same beautiful breed qualities.
Margaret M Wilson PHD


John W Stewart AM
Doctor of Veterinary Science Honoris Causa UQ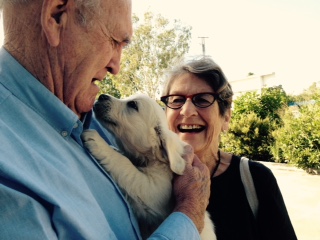 NATALIE BAKER, GOLD COAST QLD
We have two children with special needs. Karen was so kind and chose the perfect puppy with just the right temperament to match our family. The ongoing advice and support with training and socialisation for our puppy has been amazing. We are very proud to have an Alubyc Golden Retriever – Thank you so much!
KELLY PEDEMONT, GOLD COAST QLD
These are professionals who care deeply about not only the integrity of the breed but each and every puppy they breed. I was impressed by the rigid screening process – it proves they care. As soon as you decide to adopt you are welcomed into a community of other golden lovers and the support and advice is amazing. To top it all off their puppies are gorgeous, intelligent, healthy and simply delightful.
JULIE SEVERIN & DR SHERYL HEATH, TASMANIA

‪ I have never met Karen Vowell. (5 years later, no longer true, we have sung her a song now!) We are normal, everyday people that were looking for a breeder that has Golden Retrievers pups with a beautiful nature and low potential for hip dysplasia etc. After searching the internet (Australia), we found Alubyc's web page and after reading Karen's philosophy and her love of animals, we stopped looking. We can't express, 20 months down the track, that no amount of money could ever buy the most beautiful gift we were given, William Jack "aka Billy". He is not for showing, he is not for trials, he is just our pet! Damn, YOU ARE GOOD Karen Vowell.

RHYS and CINDY KINCHIN, BRISBANE QLD 2015

"Karen and Melissa are what you should expect from a breeder. Their dogs are absolutely beautiful and are given the best start in life with socialisation and love. What sets them apart from other breeders is the amazing support network you have access to for the duration of your pup's life. We have even made some new friends! I actually feel honoured to have one of their pups. I couldn't ask for better and wouldn't get a GR from anywhere else!"

Rhys & Cindy, owned by Max